Click here to apply now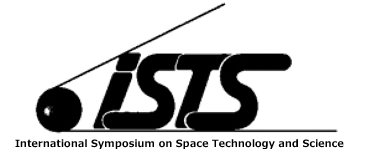 An event related to space, one of the largest in Japan, where engineers, researchers, and other space-related people from Japan and abroad gather once every two years.
This event has been held in Japan continuously for 60 years since the first conference in 1959. The aims are deepening exchanges among specialists in almost all fields of space, including space engineering, space science, space science, space medicine, space law, etc. in Japan and abroad through research presentations, further invigorating space development and utilization, and fostering human resources for the next generation.
公式ウェブサイト: http://ists.ne.jp
Please consider applying as early as possible to take advantage of the benefits we offer.
We would like to invite domestic and foreign companies, universities, and governments to support ISTS, which is held for developing the space, developing and nurturing of space science.
The number of supporting organizations and slots available are limited, so we encourage early consideration and decision making. Please note that we will not exclude competition, such as one company per industry.
⁂The 33rd Oita Beppu Conference received support from a total of 51 organizations (Gold: 7, Silver: 4, Bronze: 40).
If you have the intention to support us, please inform the Secretariat or a member of the Finance Committee by the end of September 2022, and we will send you a separate application form by e-mail. Please fill out the application form and send it to the secretariat. We will accept payment of the support fee for either 2022 or 2023, but we would appreciate it if you could complete the transfer by the end of April 2023 (final payment).
Please note that if the event is held online, there is a possibility that the opportunity provided may be changed or cancelled. In that case, we are very sorry, but we would like to ask for your understanding in advance that we will not be able to refund your support fee in support of the purpose of holding ISTS.
Your support of ISTS provides an opportunity to gather information on the space industry, to promote your organization, and to interact with engineers, researchers, and other space-related people in Japan and abroad.
There are three categories of support available, and each category offers the following opportunities.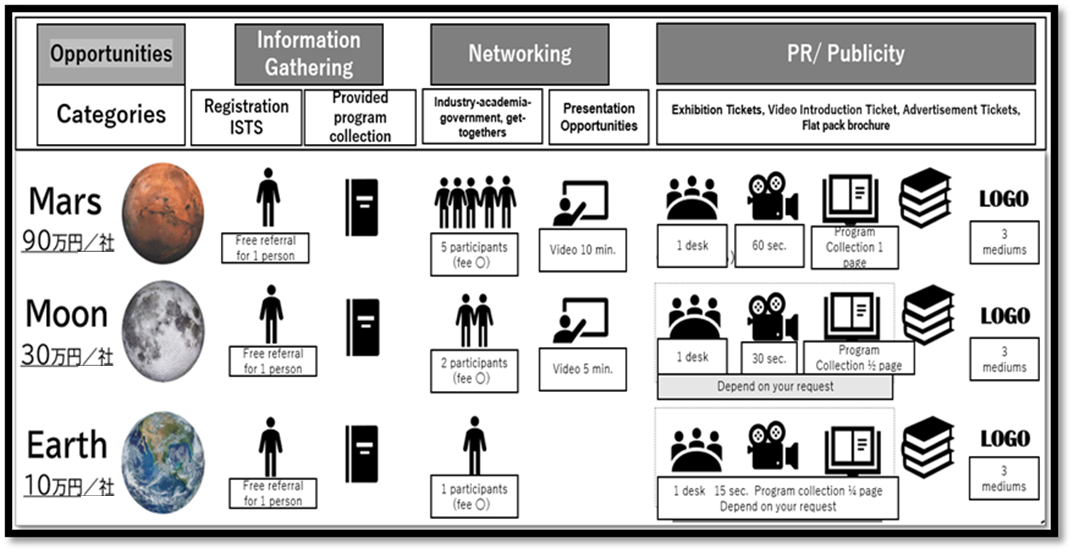 Information Gathering
ISTS participation (registration fee of 60,000 yen/ person) will be waived for one person.
After the exhibition, a set of the Final Program including the media containing the papers will be provided.
You can listen to research presentations by experts in more than 20 fields of space engineering, space science, astrophysics, space medicine, and space law, which will be useful for your organization's future projects and activities.
Networking ‐Exchanging and matching
A certain number of people can participate (for a fee) in the industry-academia-government networking event (including reception) [currently scheduled for the evening and night of Wednesday, June 7, 2023], depending on the supporting category.
In addition to the participation of major space manufacturers, small and medium-sized space ventures, space agencies, and government and administrative officials, students are also expected to attend, providing an opportunity to exchange business cards and information. It is also expected to serve as a recruiting opportunity.
Presentation opportunities are available (upon request) by supporting categories.
Sponsorship of this networking event on its own is also widely sought, and interested parties are encouraged to contact the Secretariat or Finance Committee members individually.
PR/ Publicity
One desk (180cm x 45cm wide), one or two poster boards, and two chairs will be provided in the venue (including the hallway area) to promote your organization's products and technologies. Please note that space is limited and will be offered on a first-come, first-served basis, and in the unlikely event that the number of organizations wishing to support the event exceeds the planned number of applicants, we may not be able to provide the space.
We will introduce your organization's PR video before the program starts, during breaks, etc. at The Grand Hall and other venues with large numbers of attendees.
Your organization's advertisement (in black and white) will appear in the Final Program Collection.
Space will be provided in the exhibition hall for flat-packed brochures, catalogs, etc. introducing supporting organizations.
Your organization's logo will be displayed on a board at the venue, in the Final Program collection distributed to all participants, and on the ISTS website.
The imagines of the 34th ISTS Kurume, Fukuoka, Japan up to now



Contact and Bank Account
・Contact
The 34th Secretariat (Mrs. Hirade/ Ms. Hino)
Adress: Kinsan BLDG.4F
4-1-21, Nihonbashi – Muromachi, Chuo-ku, Tokyo, 103-002, JAPAN
E-mail: secretariat@ists.ne.jp
・Bank Account
Name of the Bank: Mizuho 
Branch Name: Nihonbashi
Type of Account: Savings Account
Account Number: 2542185
Account Holder's Name: The Japan Society for Aeronautical and Space Sciences and International Symposium on Space Technology and Science
*Please enter the account name as far as it can be shown on the bank transfer form.
The mayors of Fukuoka Prefecture and Kurume City and the Special Cooperation Committee became special advisors to the Chairman of the 34th ISTS Organizing Committee.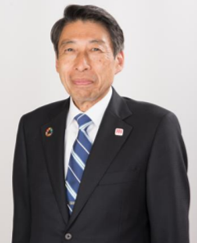 Next year the 34th International Symposium on Space Technology and Science (ISTS) will be held in Fukuoka Prefecture, Japan. It is a great pleasure for me to welcome you to Fukuoka Prefecture.
In September 2020, Fukuoka Prefecture, together with Oita Prefecture where ISTS will be held, was selected by the Japanese government as a municipality to promote space business creation.
Fukuoka Prefecture is home to a concentration of space ventures, including the QPS Institute, which successfully launched the world's smallest artificial radar satellite, manufacturing companies with superior technologies, and IT start-ups that create unique new businesses.
In addition, Kyushu University, which has produced JAXA astronaut Koichi Wakata and the QPS Institute, and Kyushu Institute of Technology, which boasts the world's best track record in launching small satellites, are located in this area.
Furthermore, Kurume City, where the next exhibition will be held, is one of the prefecture's leading manufacturing centers, with a concentration of various industries such as rubber and automobiles. Many manufacturing companies in Kurume City and other parts of the southern part of the prefecture support the development of the QPS Labs' satellites, which I mentioned earlier.
I am working to create new growth industries with the aim of making Fukuoka Prefecture "the world's choice". We are supporting the development of space-related equipment such as rockets and satellites by local manufacturing companies and the creation of new services using satellite data.
In addition, starting next fiscal year, we will also be working on the development of space food originating from Fukuoka Prefecture. In June last year, Fukuoka Prefecture and Kurume City were selected as the first "Regional Bio Community" by the government, the only one in western Japan. In the bio-industry, Kurume City is particularly focused on the development of "functional foods," and ranks third in Japan after Tokyo and Osaka in terms of the number of certified functional foods. We will leverage these strengths to focus on the development of space food with functional properties.
Although the pandemic of new coronavirus infection continues, we will overcome this hardship together and sincerely look forward to seeing you all in Kurume City next year. We look forward to seeing you all. (March 4, 2022, excerpt from Fukuoka Prefecture Web site)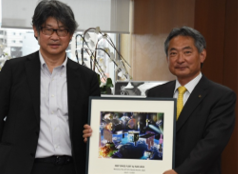 It is my great pleasure to announce that the 34th International Symposium on Space Technology and Science will be held next year in Kurume City, Fukuoka Prefecture.
As Governor Hattori mentioned in his address, we will seize this opportunity and, in cooperation with Fukuoka Prefecture, implement projects in various fields, including industry, education, and tourism, to foster space-related industries and human resources for the next generation, in order to build momentum for the next conference.
Kurume City, the third largest city in Fukuoka Prefecture, is a city rich in history and culture, nurtured by nature, including Kyushu's largest river, the Chikugo River, and the Minoh Mountain Range, and is also the birthplace of Bridgestone, a world-class tire manufacturer. Currently, the city is home to a number of automobile manufacturers' production bases and is also developing into one of Japan's leading bases for the biotechnology industry. In addition, several companies are taking on the challenge of the space business, such as participating in satellite development together with QPS Research Institute, a space venture company originating from Kyushu University.
Kurume, blessed with abundant water and fertile land, is also attractive for its diverse food culture. Kurume is the birthplace of tonkotsu (pork bone) ramen, which is popular worldwide, and is one of the three major sake brewing regions in Japan. In addition to ramen and sake, Kurume offers many other delicious foods such as yakitori (grilled chicken), Chikugo udon noodles, and fruits, and we hope that you will enjoy these attractions during your stay in Kurume.
We will prepare well for next year's Fukuoka and Kurume conventions to ensure everyone's satisfaction.
We look forward to seeing you all there. (Excerpt from the Fukuoka Prefecture Web site, March 4, 2022)
ISTS pre-event scheduled for September 3-4, 2022 in Kurume, Fukuoka, Japan
As a pre-event of ISTS, Fukuoka Prefecture plans to co-host the "Fukuoka Prefecture Space Business Forum in Kurume" with Kurume City to promote the potential of space business, the potential of the prefecture, and prefectural policies to the citizens of the prefecture.
In addition, Kurume City is also planning to hold events for the general public and youth at the same time, including lectures by astronauts and space-related personnel.
Lectures by JAXA Astronauts, Space Venture Fukuoka Prefecture residents, and Kurume area university officials
Talk session by Mr. Onishi, President of QPS Research Institute, Inc. and Mr. Tobo, President of e-SET
Introduction of QPS Research Institute's model satellite, prefectural space business promotion measures and initiatives of companies in the prefecture, etc.